ESTA CRÍTICA TEM SPOILERS
THIS ARTICLE HAS SPOILERS
A guerra mais violenta, degradante e mortal de todas começou em 1939, mas os horrores já estavam acontecendo há anos na terra de Hitler. Os nazistas chegaram ao poder na Alemanha em 1932, quando se tornaram o partido majoritário do Reichstag - o Congresso alemão. No ano seguinte, 1933, o primeiro campo de concentração foi aberto. Dachau serviu como local para enviar presos políticos antes de os judeus serem escolhidos como principal alvo do ódio nazista. Mesmo que campos de concentração já existissem desde o século XIX - quando colonizadores europeus construíram campos na África para eliminar a população local - estes lugares de extermínio são comumente associados à Segunda Guerra Mundial.
The most violent, degrading and mortal war of them all started in 1939, but the horrors were already happening for years in Hitler's land. The Nazis came to power in Germany in 1932, when they became the largest party in the Reichstag - the German Congress. The following year, 1933, the first concentration camp opened. Dachau served as a place to keep political prisoners before Jews were chosen as the main target for the Nazis' hate. Even though concentration camps existed since the nineteenth century - when European colonizers built those camps in Africa to kill the locals - these places for extermination are often associated with World War II.
"A Sétima Cruz" é a história de sete prisioneiros que, em 1936, fogem do campo de concentração fictício de Westhofen. Entre eles está George Heisler (Spencer Tracy), que quer reencontrar sua amada Leni (Kaaren Verne). No campo, o comandante ordena que os outros prisioneiros ergam sete cruzes, nas quais ele pretende crucificado cada fugitivo - depois de torturá-los, obviamente.
"The Seventh Cross" is the story of seven prisoners who, in 1936, escape from the fictional concentration camp of Westhofen. Among them there is George Heisler (Spencer Tracy), who wants to be reunited with his beloved girl, Leni (Kaaren Verne). Back at the camp, the commander orders the other prisoners to build seven crosses, where he intends to crucify each fugitive - after torturing them, of course.
Enquanto isso, na cidade vizinha de Mainz, um amigo de George está preocupado com ele. Franz Marnet (Herbert Rudley) procura pelo líder da Resistência na cidade, e juntos eles conseguem passaportes falsos para George - o único problema é que George acredita que Franz está em Berlim, e Franz não faz ideia de onde George pode estar escondido.
Meanwhile, in the neighboring city of Mainz, a friend of George's is worried about him. Franz Marnet (Herbert Rudley) looks for the leader of the Resistance in town, and together they get fake passports to give George - the only problem is that George believes Franz is in Berlin, and Franz has no idea where George could be hiding.
George encontra Leni em Mainz - a mesma Leni que prometeu esperar por ele para sempre agora está casada e ameaça contar para seu marido que ela viu o fugitivo. George não pode confiar em mais ninguém. Ele começa, assim como Blanche Dubois, a depender da bondade de estranhos - primeiro uma costureira (Agnes Moorehead) que é amiga de outro fugitivo, depois um médico judeu que cuida de um ferimento de George e decide não entregá-lo às autoridades. Sim, há oprimidos contribuindo com os opressores, mas ainda pode haver algumas pessoas decentes entre os oprimidos, que sabem o tanto que sofrem e que não desejam o mesmo destino para ninguém.
George finds Leni in Mainz - the same Leni who promised to wait for him forever is now married and threatens to tell her husband that she saw the fugitive. George can't trust anybody anymore. He starts, like Blanche DuBois, depending on the kindness of strangers - first a dressmaker (Agnes Moorehead) who is friends with another fugitive, then a Jewish doctor who treats George's wound and decides not to report him to authorities. Yes, there are oppressed people siding with the oppressors, but there may still be a few decent ones among the oppressed, who know what they've been through and won't want the same fate to anybody.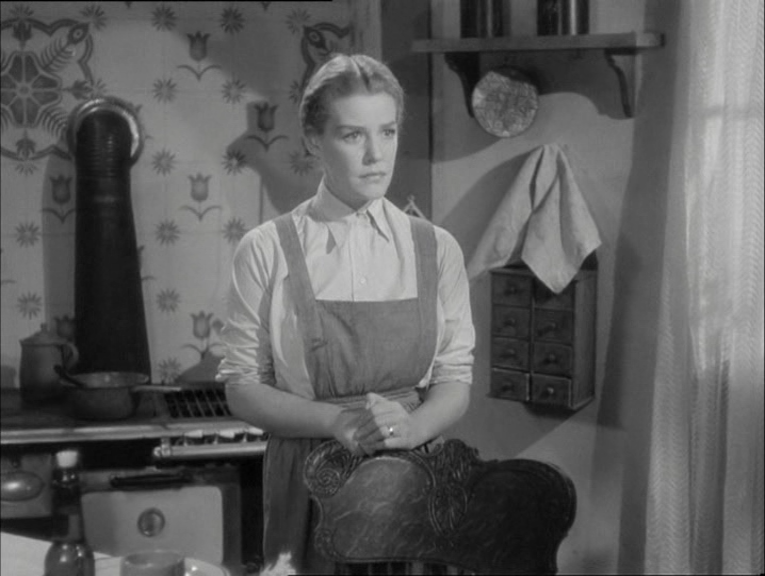 Membros histéricos da Juventude Hitlerista tomam uma vila e invadem casas em busca de um fugitivo. Para algumas pessoas, ver um homem ser caçado por nazistas é como ver um evento esportivo. O povo comemora e um homem faz piada quando o fugitivo - que felizmente não é George - é preso. Numa realidade nazista, as melhores pessoas são os indiferentes: pelo menos eles não contribuem para a desgraça de ninguém.
Hysterical members of the Hitler Youth go through the village and invade houses looking for a fugitive. Watching a man being hunted by Nazis is like watching a sports event for these people. The people cheer and a man makes a joke when the fugitive - luckily, not our George - is arrested. In a Nazi reality, the best people are the indifferent ones: at least they don't contribute to someone's misery.
George tem de procurar por Rudolf Schenck no número 46 da Morgenstrasse em Mainz. Quando ele chega ao endereço, uma vizinha o informa, com um sorriso debochado, que Rudolf e a esposa haviam sido presos pela Gestapo. Essa vizinha certamente informará à Gestapo sobre George - não há pessoas piores que as que são como esta vizinha, incapazes de cuidar somente de suas próprias vidas e que se enchem de prazer ao destruir os outros.
George has to look for Rudolf Schenck at 46 Morgenstrasse in Mainz. When he arrives at the address, a neighbor informs him, with a mocked smile, that Rudolf and his wife had been arrested by the Gestapo. This neighbor will certainly talk to the Gestapo about seeing George - there are no people worse than this neighbor kind, who can't mind only their own business and feel pleasure in destroying others.
George, perturbado, procura pelo velho amigo Paul Roeder (Hume Cronyn) e sua esposa Liesel (Jessica Tandy). Paul é um cidadão comum: ele está feliz que seu salário aumentou e obedece ao Führer quando ele ordena que as famílias alemãs - só as famílias arianas, obviamente- tenham mais filhos. Ele está preocupado com os fins, não com os meios. E daí que o país está produzindo muito armamento e as minorias estão sendo sistematicamente eliminadas? A vida dele melhorou, e isso é tudo que parece importar para ele. Felizmente, Paul aceita ajudar o velho amigo - e eu posso estar sendo pessimista, mas não vejo essas pessoas que preferem os fins aos meios ajudando os outros.
A disturbed George then looks for his old friend Paul Roeder (Hume Cronyn) and his wife Liesel (Jessica Tandy). Paul is a common citizen: he is happy that his wage increased and obeys the Führer when he says German families - only the Arian ones, obviously - must make babies. He's worried about the ends, not the means. So what that the country is producing a lot of guns and minorities are being systematically erased? His life got better, and that's all that seems to matter to him. Fortunately, Paul agrees to help his old friend - I may be a pessimist now, but I don't see those ends-over-means people helping anyone.
Outro amigo de George, Bruno Sauer (George Macready), em um primeiro momento se mostra demasiado covarde para ajudar, mas então se redime. Assim como muitos outros, Bruno tem uma vida confortável - seu banheiro cheio de espelhos é quase labiríntico- e aceita a situação porque ele tem medo de arriscar tudo para fazer a coisa certa. George mais uma vez terá de depender de estranhos, como o operário Fiedler (Paul Guilfoyle), o padeiro Poldi Schlamm (Felix Bressart) e a garçonete Toni (Signe Hasso).
Another friend of George's, Bruno Sauer (George Macready), is at first too coward to help, but then redeems himself. Like many people, Bruno lives a comfortable life - his bathroom full of mirrors is almost a labyrinth- and compromises with the situation because he's afraid to risk everything to do something right. George once again will have to rely on strangers, like factory work Fiedler (Paul Guilfoyle), baker Poldi Schlamm (Felix Bressart) and waitress Toni (Signe Hasso).
Mesmo que a saga de George se pareça com um suspense, ficamos enojados e alarmado com a história: afinal, é real, muitas pessoas passaram por dificuldades inenarráveis depois de fugirem de um campo de concentração, não é uma história inventada de detetive. E o mais terrível disso tudo é que você fica tão acostumado com o mal que não consegue mais confiar em ninguém- eu não conseguia confiar em nenhum personagem assim que ele aparecia, e por causa dessa desconfiança a situação de George fica mais difícil.
As much as George's saga looks like a thriller, we are more disgusted and alarmed by the story: after all, it's real, some people have been through hell after escaping a concentration camp, it is not an invented detective story. And the most awful thing in this whole tale is that you get so used with seeing evil that you start trusting nobody - I couldn't trust any character at first, and because of these mistrust issues George's situation gets harder.
A principal característica de um campo de concentração é que ele não é uma prisão: as pessoas não precisam ser condenadas por um crime para serem presas em um - elas apenas precisam ser consideradas perigosas ou repulsivas por aqueles que detêm o poder para serem mandadas para um campo de concentração. Eu não quero parecer demasiado dramática ou alarmista, mas todas essas coisas não foram deixadas em um passado sombrio - elas estão acontecendo novamente, agora. Imigrantes estão sendo separados de suas famílias em campos na fronteira dos EUA. As pessoas estão comemorando a desgraça alheia. Empatia está se tornando algo raro - porque quem não é alvo de discurso de ódio não consegue se colocar no lugar de pessoas que são, e por isso nada é feito contra o discurso de ódio. A esperança é cada dia mais difícil de ser mantida - mas "A Sétima Cruz" nos mostra que uma centelha de esperança é suficiente para iniciar a mudança. Ou, como escreveu uma menina naquela época:
"É difícil em tempos como estes: ideais, sonhos e esperanças permanecerem dentro de nós, sendo esmagados pela dura realidade. É um milagre eu não ter abandonado todos os meus ideais, eles parecem tão absurdos e impraticáveis. No entanto, eu me apego a eles, porque eu ainda acredito, apesar de tudo, que as pessoas são realmente boas de coração".
Anne Frank
The main characteristic of a concentration camp is that it's not a prison: people don't have to be found guilty of something to be imprisoned there - they just need to be found as dangerous or repulsive by those in power in order to be sent to a concentration camp. I don't want to sound overly dramatic or alarmist, but all those things weren't left in a somber past - they are happening again, now. Immigrants are being separated from their families in camps at the US border. People are cheering at someone's disgrace. Empathy is becoming rare - because people who are not target of hate speech can't put themselves in the places of people who are, therefore they do nothing against the hate speech. Hope is harder and harder to maintain - but "The Seventh Cross" shows us that one spark of hope is enough to start change. Or, as a girl wrote back then:
"It's difficult in times like these: ideals, dreams and cherished hopes rise within us, only to be crushed by grim reality. It's a wonder I haven't abandoned all my ideals, they seem so absurd and impractical. Yet I cling to them because I still believe, in spite of everything, that people are truly good at heart."
Anne Frank