Para mim, é difícil escolher um gênero cinematográfico favorito. Mas se eu tivesse que fazer esta escolha, certamente os filmes de suspense entrariam no TOP 3. Um bom suspense é capaz de prender sua atenção, fazer você refletir, surpreendê-lo e deixá-lo sem fôlego – e eu amo todas estas sensações. Infelizmente, a Academia de Artes e Ciências Cinematográficas não concorda comigo. Esta distinta instituição é a responsável pelo Oscar, e pela pequena quantidade de filmes que suspense que ganharam o prêmio nos últimos 90 anos, parece que a Academia tem algo contra o gênero.
It's difficult for me to choose my favorite movie genre, but if I really had to, thrillers probably would be in the TOP 3. A good thriller catches your attention, makes you think, surprises you, and leaves you on the edge of your seat – and I love all these sensations. Unfortunately, the Academy of Motion Picture Arts and Sciences doesn't agree with me. This distinguished institution is the one responsible for awarding the Oscars, and by the little amount of thrillers that have got the prize in the last 90 years, it looks like the Academy has some trouble with thrillers.
Vamos começar com um dos maiores esnobados do Oscar: Alfred Hitchcock. O celebrado diretor nunca ganhou uma estatueta competitiva, e apenas seu primeiro filme norte-americano, "Rebecca" (1940), ganhou como Melhor Filme. E sejamos francos: "Rebecca" é mais influenciado pelo estilo do produtor Selznick do que pelo diretor Hitchcock. O próprio Hitch foi indicado a melhor Diretor cinco vezes – por "Rebecca", "Um Barco e Nove Destinos", "Quando Fala o Coração", "Janela Indiscreta" e "Psicose", perdendo, respectivamente, para John Ford, Leo McCarey, Billy Wilder, Elia Kazan e novamente Billy Wilder. Nada mal.
Let's start with one of the most blatant Oscar snubs ever: Alfred Hitchcock. The celebrated director never won a competitive Oscar, and only his first American film, "Rebecca" (1940), won the Best Picture prize – and let us be frank: "Rebecca" has more of the Selznick trademark than of the Hitchcock touch. Hitch himself was nominated five times – for "Rebecca", "Lifeboat", "Spellbound", "Rear Window" and "Psycho", losing the awards, respectively, to John Ford, Leo McCarey, Billy Wilder, Elia Kazan and Billy Wilder once again. Not bad.
E o filme que hoje é considerado o melhor de todos os tempos – ao menos de acordo com a revista Sight and Sound – é um suspense, dirigido por Hitchcock e não foi indicado a um Oscar sequer. Estamos falando de "Um Corpo que Cai", que estreou em 1958 e foi recebido de maneira fria pelos críticos da época. Olhando em retrospecto, a obra poderia ter sido indicada em diversas categorias: Filme, Diretor, Ator, Atriz e, em especial, Fotografia. Tudo isso em um ano dominado por "Gigi", musical da MGM. O tempo foi bom para "Um Corpo que Cai", e provou que a Academia estava errada mais uma vez.
And the film that is now considered the best ever made – at least according to the Sight and Sound poll – is a thriller, directed by Hitchcock and it was not nominated for a single Oscar. We're talking about "Vertigo", released in 1958 and received with mixed reactions by critics then. Looking in retrospect, it could have been nominated in several categories: Picture, Director, Actor, Actress and, in special, cinematography. All this in a year dominated by the MGM musical "Gigi". Time has been kind to "Vertigo", and it proved the Academy wrong once more.
This scene inspired La La Land!
Obviamente, Hitchcock é o primeiro diretor em que pensamos quando falamos de suspense – afinal, ele é o mestre do suspense. Mas muitos outros diretores fizeram filmes de suspense antes e depois de Hitchcock, e tirando duas exceções, estes filmes foram ignorados pela Academia. As duas exceções são os vencedores do prêmio de melhor filme "O Silêncio dos Inocentes" (1991) e "Onde os Fracos Não Têm Vez" (2007).
Of course, Hitchcock is the main director we think about when we talk about thrillers – after all, he is the Master of Suspense. But many other directors made thrillers before and after Hitchcock, and with two exceptions, these movies were ignored by the Academy. The two exceptions are Best Picture winners "Silence of the Lambs" (1991) and "No Country for Old Men" (2007).
Aliás, algum filme noir teve sucesso no Oscar? Toda uma nova discussão poderia ter início aqui – afinal, noir é um gênero, um subgênero do suspense ou um movimento? Mas não podemos negar que noirs e thrillers têm muitas coisas em comum. Filmes como "O Falcão Maltês" (1941), "A Curva do Destino" (1945), "Gilda" (1946), "A Dama de Xangai" (1947), "O Segredo das Joias" (1951) e "A Marca da Maldade" (1958) também não se deram bem no Oscar.
By the way, as any noir been successful at the Oscars? A whole new discussion could begin debating whether noir is a genre, a thriller sub-genre or a movement, but we can't deny that many noir movies share characteristics with thrillers. Films like "The Maltese Falcon" (1941), "Detour" (1945), "Gilda" (1946), "The Lady from Shanghai" (1947), "The Asphalt Jungle" (1951) and "Touch of Evil" (1958) didn't fare well at the Oscars at all.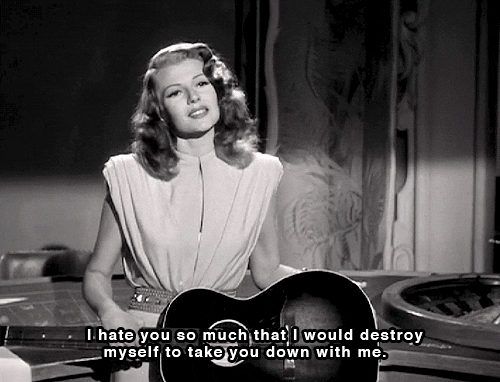 Não nos esqueçamos que um bom filme de suspense é geralmente feito de boas performances. E os atores e atrizes nos thrillers, mesmo maravilhando o público, nem sempre conquistam a simpatia da Academia. Um exemplo recente foi a performance de Isabelle Huppert como protagonista de "Elle"(2016) – um filme surpreendente que só foi memorável graças à presença e atuação dela. Isabelle perdeu o prêmio para Emma Stone, a estrela de musical que não canta nem dança.
Let's not forget that a good thriller is usually made of good performances. And the actors and actresses in thrillers, even mesmerizing the audience, didn't always conquest the Academy's sympathy. One recent example was Isabelle Huppert's performance as the lead of "Elle" (2016) – a suspenseful film that was only memorable because of Huppert's performance. She lost the award to Emma Stone, the musical star who can't sing or dance.
Qual é o problema com o suspense, afinal? Quase todos os gêneros podem encontrar um lugar ao sol no Oscar, incluindo os prestigiados dramas, as charmosas comédias e os extravagantes musicais, mas o suspense fica de lado. Primeiro, muitos filmes de suspense têm baixo orçamento. No passado, os filmes de estúdios mais pobres nem tinham chance no Oscar. Hoje, é raro, mas filmes de relativo baixo orçamento podem obter indicações. "Corra" (2017), por exemplo, estreou em fevereiro, longe da temporada de premiações, custou apenas 4,5 milhões de dólares e foi tão poderoso que ficou marcado na mente dos votantes e foi indicado a quatro categorias.
What is the trouble with thrillers, after all? Almost all genres can have a place in the sun at the Oscars, including the prestige drama, the charming comedy and the lavish musical, but thrillers are left aside. For starts, many thrillers are made with a low budget. In the past, "poverty row" movies wouldn't even get near the Oscar. Today, it's rare, but low-budget movies can get nominations. "Get Out" (2017), for instance, was released in February, far away from the Oscar season, cost only US$ 4,5 millions, but was so powerful that it remained in the minds of voters and got four nominations.
Talvez os filmes de suspense sejam como um bom vinho: eles ficam melhores com o tempo. Quando os anos passam, podemos ver estes filmes de outra maneira e só ao apreciar a profundidade, potencial, influência e brilhantismo. Talvez a maneira de votar no Oscar seja contida, conservadora e apressada, e os votantes acabem escolhendo os filmes pela pressão e não pelos méritos. Ou talvez os críticos de cinema e os cinéfilos sejam as únicas pessoas sensatas neste planeta e isso significa que devemos fundar nossa própria Academia e termos nossa própria premiação – cheia de suspense, é claro.
Maybe thrillers are like fine wine: they get better with time. When more time passes, we can look at these movies and truly appreciate their depth, potential, influence, brilliance. Maybe the Oscar's way of voting is tight, narrow-minded and too quick, and voters end up voting for movies and performances because of the hype, not because of their merits. Or maybe film critics and cinephiles are the only sane people in the world and we should start our own Academy. It'd be a thrill!